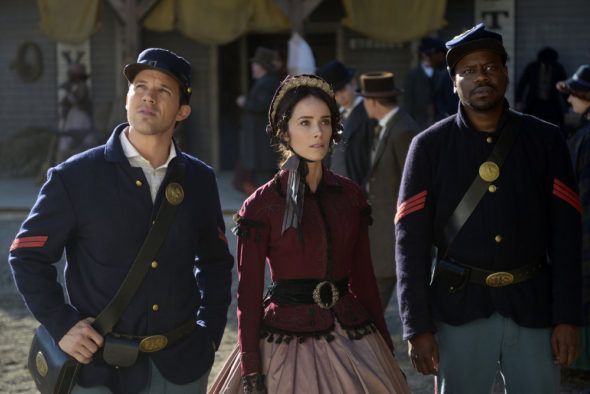 From left to right: Matt Lanter (Wyatt Logan), Abigail Spencer (Lucy Preston), Malcolm Barret (Rufus Carlin) wearing costumes dating from Abraham Lincoln's assassination day (April, 14 1865) - episode 2
THE TV IS ON !!*

Dear friends,
We are back ! School has started again and so have the new TV shows! That's why today's article is dedicated to "Timeless" a new awesome show created by Eric Kipke and Shawn Ryan, starring Abigail Spencer ("Suits") and Matt Lanter (90210 New generation). It premiered on October 3 on NBC, and it is a mix of drama and science fiction.
A dangerous criminal, Garcia Flynn, steals a secret time machine in order to change American history. He wants to travel back in time and re-write the events as we know them today. Our only hope lies on the shoulders of a surprising team: a history professor, Lucy Preston, a soldier, Wyatt Logan, and a scientist: Rufus Carlin. They use the machine's prototype to go back in time to terrible historical moments, where Flynn has decided to land, such as the Hindenburg crash, Abraham Lincoln's assassination, and try to thwart his plan but without changing history.

I've been in love with this TV show ever since I saw the pilot. Indeed, I feel like this subject has never been exploited before. The plot is fresh and new. Plus, time travelling is really intriguing. You get to go back in time, but you are not supposed to exist, which means that you cannot act the way you want, or change something because you would have wanted it to be different. Lucy Preston believes that "everything is meant to be". The characters are constantly questioning everything they know, their values, what they believe in. Their professions are completely different, and therefore so is the way they apprehend their environment.
Moreover, Flynn makes it very hard for the trio to stop him, which means that action and suspense are constantly present. Between characters fighting each other or running for their lives, you can never get bored! The costumes/disguises are also a big part of the show and contribute to recreating the atmosphere of the time they travel back to.
The suspense remains: Will the team be able to discover what Flynn is trying to achieve and stop him for good ? We will have to keep watching to find out!

Thank you very much for reading my article. I hoped you enjoyed it! Share your thoughts by commenting below !

*We're back so it calls for another exclamation mark !

Dounia AL-JIJAKLI
Vocabulary tips:
- to travel back in time: voyager dans le temps
- to lie on the shoulders of: reposer sur les épaules de
- to thwart: contrecarrer quelqu'un
- pilot: premier épisode, épisode "pilote"
- meant to be : destiné à, déjà déterminé à l'avance
- to remain: demeurer, rester